Information is key to solving a case, removing a violent offender, and keeping an officer safe from harm. While little information is available, law enforcement must use whatever insights they are given to pursue the investigation and find associations that lead them to a conviction. Technology and access to critical investigative information provide law enforcement with the ability to develop actionable insights by consolidating pieces of information provided at the crime scene.
A large Metropolitan Law Enforcement Agency experienced the power of the advanced investigative functions of Forensic Logic COPLINK as they were able to quickly identify and arrest a burglary suspect despite limited witness descriptions.
Below is an overview of the case, provided by law enforcement:
At approximately 0230hrs, a witness exists his home near C St. and 33rd and notices what appears to be a tall white male, in dark clothing, breaking into a neighbor's shed across the street. Upon being observed, the subject fled down the street and sped away in a white 90's model Cadillac.
The witness described the white male as being between 160-190 pounds, short brown hair. In addition, the witness noted several tattoos on both arms. Most were unreadable script, but one appeared to be a large "Fleur De Lis" symbol.
With the use of Forensic Logic COPLINK, investigators were quickly able to compile the information they had – a location, suspect description and vehicle information, and find the intersection points in the Forensic Logic COPLINK nationwide database. With a simple search, analytics and visualizations were provided allowing the officers to leverage critical associations in the data. These associations provided tactical leads and quickly allowed them to identify a suspect.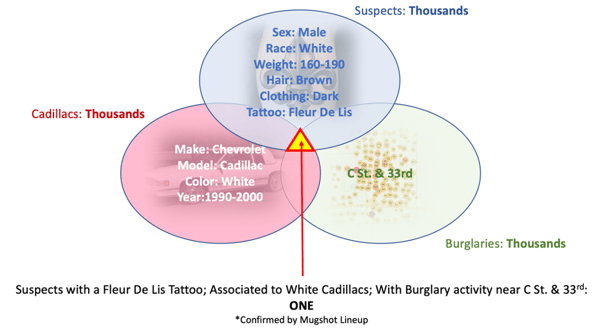 Technology and the power of information allowed this agency to quickly make critical investigative connections despite minimal information. With great policing and the use of Forensic Logic, a suspect was confirmed, and an arrest was made.
---
Forensic Logic Police Database Software Solutions
Forensic Logic has spent more than a decade collaborating with local, state and federal law enforcement agencies to deploy the largest, most powerful network of users, information and technology in American law enforcement.
We've combined our industry-leading search engine, LEAP, with COPLINK's advanced analytics and reporting to offer a full suite of information technology in a single platform. The finest tools and the richest data are now matched with streamlined integrations and rapid deployment.
Contact Us